See us at ecologiQ Greener Infrastructure Conference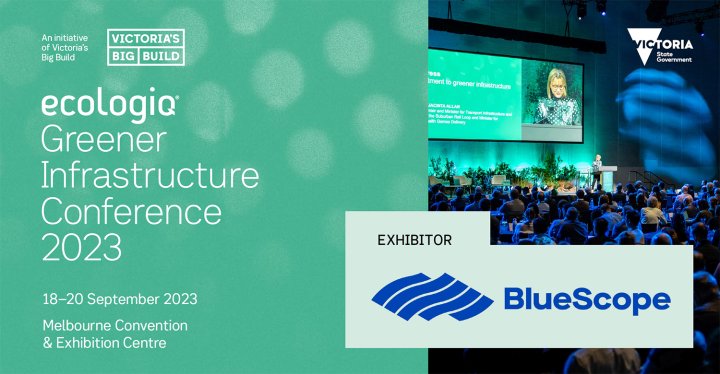 BlueScope is looking forward to exhibiting at the ecologiQ Greener Infrastructure Conference this 18-20 September at Melbourne Convention & Exhibition Centre.
This important industry event will bring together leaders in infrastructure, government and sustainability to explore how to deliver greener infrastructure projects. The conference will explore the role of infrastructure in driving a circular economy, starting with recycled and reused materials, and the economic and resource factors shaping the industry's greener future.
BlueScope embraces circular economy principles in product development, including designing products for durability and resilience. Steel is strong, durable, and versatile and its inherent properties allow it to be recycled without loss of quality over and over again. Our team will be in the Trade Hall and happy to answer your questions about BlueScope's sustainability credentials and initiatives including our ResponsibleSteel™ certification and BlueScope's Environmental Product Declarations (EPDs). We'll also be showcasing REDCOR® weathering steel - you can learn more about its whole-of-life benefits for applications such as bridge structures, noise walls and architectural cladding in building applications.
Don't miss out on your chance to be part of this event. It's a unique opportunity to hear from expert speakers and connect with suppliers working toward a more sustainable future. Registration includes a welcome reception, networking breakfast, trade hall access and a plethora of inspiring conference speakers and breakout sessions.
Tickets are still available here.
We look forward to seeing you in the Trade Hall.
---
Further information: